How to Rid of Duplicate Photos on Mac
Duplicate files prove to be one of the problematic factors that affect system performance negatively. These files generate and accumulate on your system in different forms over time. These files may accumulate due to various reasons that may include file sharing and downloading from different apps, data backup and more. Here, duplicate photos usually share the largest part in total duplicate files on your device. These unnecessary files in the form of digital junk consume a lot of precious disk space and make your device performance slow. While finding & removing these files manually could be a cumbersome task, we suggest you should use best duplicate photo management software for instant and effective results. Lets discuss some of these tools for Mac here.
Duplicate Photos Fixer Pro: Duplicate Photos Fixer offers an easy yet effective solution to help you deal with duplicate photos issue on your device. While working on advanced algorithms, it helps you deep clean your system storage. You can use its matching level option to find and delete both near identical and exact duplicate photos. During the scan process, you can choose specific folders to scan or drag & drop the files to scan area. After scanning your complete device storage, it displays auto-mark results. Here, it automatically marks all poor-quality images for deletion. It even allows you to delete files manually. This smart tool supports both internal and external device storage cleaning. You can use this cross-platform tool onWindows, Mac, Android and iOS devices. Furthermore, it supports cleaning iPhoto& Photos library on your Mac and cleaning Windows photo collection.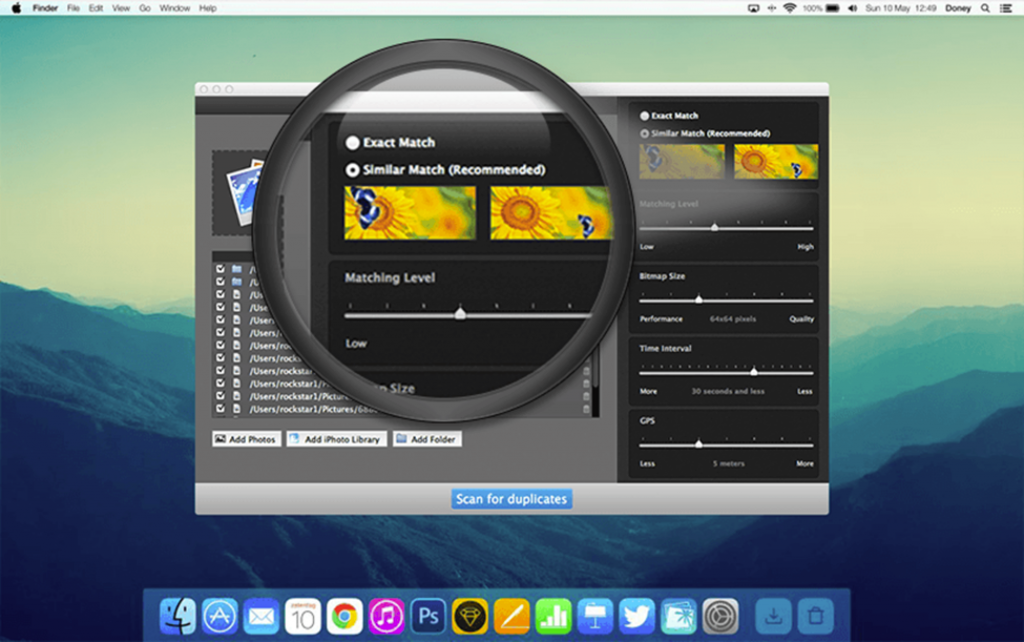 Easy Duplicate Finder: This powerful duplicate photo management software works effortlessly both on Mac and Windows systems. You can use this tool to find and delete duplicate images from specific folders or complete device storage. It gives you the option to preview files before deletion to avoid losing important files. Working on smart "CRC32 Checksum + File Size" techniques, it helps you compare files based on their content to deliver instant results with the highest accuracy. Using Easy Duplicate Finder tool, you not only manage on your lots of hard disk space, but you can also boost your system your system.
Dr.Duplicator: Dr. Duplicator is powerful de-duplication solution that helps you regain a significant amount of storage space in an effortless manner. You can use this tool to scan multiple drives, complete storage space or even network to get instant and effective results. While scanning the device storage, it finds & deletes similar image files based on multiple filters. You can use these powerful filters to refine your scan process and get instant results with the highest accuracy. Working on innovative algorithms, it helps you deeply clean your storage space and recover disk space. This comprehensive de-duplication tool also helps you clean other types of duplicate files including similar videos, identical music & audio files, duplicate contacts, emails and more.
Nektony Awesome Duplicate Photo Finder: Awesome Duplicate Photo Finder is designed & developed around simple and intuitive UI and effective file processing logic. Working on comprehensive scan algorithms, itmakes your de-duplication process seamless. As it completes scanning yourdevice storage, you get full control over scan results as it allows you tomanage all these files the way you want. Here, it displays auto-mark resultsfor easy management of duplicate files. This feature is useful to help you saveyour time as you needn't to manually select the poor-quality files fordeletion. You can use this powerful tool to recover abundant disk space in an effortless manner.
CISDEM Duplicate Finder for Mac: Use this smart de-duplication solution to clean both your internal and external device storage. It is a useful feature when you want to de-duplicate your external device storage in an effortless manner. Using this powerful tool, you can regain chunks of disk space in an instant manner. While searching for identical images, it scans files based on same name, type, size, keywords, count and other filters. Its powerful scan engines perform a deep cleaning of your device and make your device running smooth and seamless. Using its exclude list option, you can exclude any file or folder from the scanning process. It is a useful feature to keep important files & folders untouched. You can also use its other features like smart select and quick search to get accurate results in no time.
Conclusion: The best duplicate photo management software offers you an advanced solution to deal with all duplicate image files on your system. Whileworking on advanced algorithms these smart solutions perform a deep cleaning ofyour system. By de-duplicating your photo collection it helps you manage yourimage library and reduce file search time significantly. Here, we havediscussed some of these tools in detail to help you recover precious disk spaceon your Mac. If you have some other preferred tools, then feel free to comment below.