HOW TO HIDE COMPUTER DRIVES USING CMD

Hello guys  today I am going to share a very important CMD tricks which helps you a lot to hide your data. For this i am using DiskPart console, before going to this tutorial i want to explain little about DiskPart.
DiskPart.exe is a text-mode command  that enables you to manage objects (disks, partitions, or volumes) by using scripts or direct input from a command prompt. This is a little bit descriptions about Diskpart, now follow steps by step…
Step 1 :-

First go to search – type diskpart and hit enter
 
Step 2 :-

Now "diskpart.exe" is open then type "list volume", this command is used to see all the drives/volume which is present currently on your system.
Step 3:-

Then type "select volume" and hit enter this command is for to select the which drive/volume you want to hide.
Here I am "select volume 0 , I want to hide my 'G drive'.
Step 4 :-

Type "remove letter G" and hit enter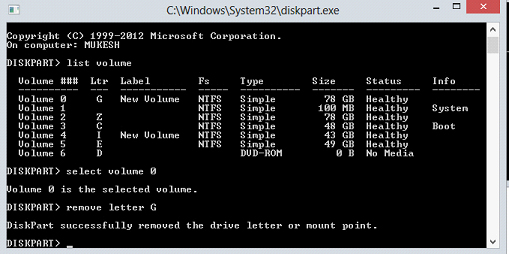 Here you see my 'G:\' drive completely hidden.
 
Step 5 :-

now I will show you how to assign the hide drive/volume.
         Type "assign letter G"
Now its check my drive/volume is assign or not.
 
Here I successfully assign my G drive/volume, so I hope friends you enjoy this tutorial.