HACK GMAIL PASSWORD USING CREDENTIAL HARVESTER ATTACK

Hello guys today in this post we will see how to hack gmail password using Credential Harvester Attack Vector of Social Engineering Toolkit. This method is same as the tabnabbing attack.
The first thing is that this attack is only work on a same network or company that we need to do the Social Engineering Attack. This method is also called phishing attack within same network. In this method we use to clone the site and send to victim and request or assist the users to submit their login details and passwords to popular websites. Now I will show you how it works….
Step 1 :-

First of all you run your backtrack system then open the Social Engineering Toolkit in BackTrack and choose Website Attack Vectors option.
Backtrack – Exploitation Tools – Social Engineering tools – Social Engineering Toolkit – set.
 
Step 2 :-

Then choose option 1 i.e Social Engineering – attack
 
Step 3 :-

Then choose  option  2 i.e Website Attack Vectors
 
Step 4 :-

then select 3 option credential Harvester Attack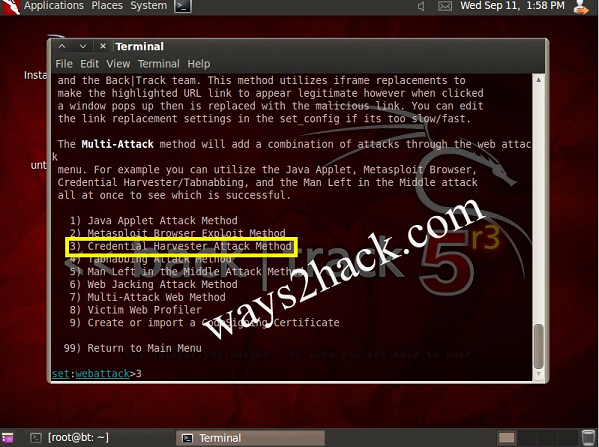 Step 5 :-

select option 2 "site clone"
 
Step 6:-

using ifconfig command to see the ip attrack of  your machine i.e attacker system ip address.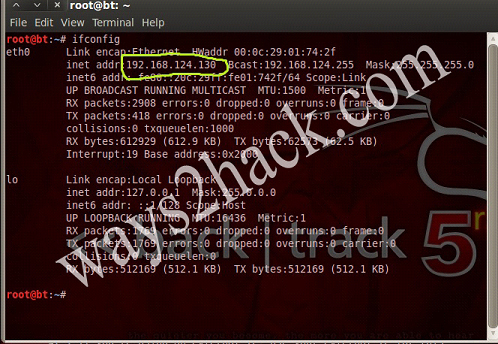 Step 7 :-

Now put the ip address where the victim post back the request and choose  the website name for cloning like www.gmail.com
 
Step 8:-

Now we send a link with our IP address to our victim and request him/her to open that  ip/url opens.
You can also use tinyurl to hide the ip address of attacker…. Or there is also so many method available to request the victim to open their url..
 
Then after the Fake website will load and we just have to wait to enter his credentials in order to capture them.
Here you successfully find the user id and password of victim machine